Donair Samosa
Oh, yes! I am taking full credit for this. I was so upset when pizza places came out with the donair egg roll, I know not quite the same but very close. You see in my mind I had invented the Donair Samosa. Passing it around and sharing to everyone around me for years before the donair egg roll came out. I'm still slightly disappointed.
There was no recipe on the net. Even now, I don't think you can google Donair Samosa and find a recipe. Because this is my own creation and really Good. I was even reluctant to share it here because it is so popular among my circle. Any time I made them, they didn't last long at all. I often get requests to make these again.
However. I am going to share it with you for your personal use. Let's get into the Ingredients of a Donair Samosa.
This recipe is a JAH Product Recipe using Halifax Donair Spice for the Donair meat. This can be made up with your standard seasoning mix for Donairs too, included in this post.
Donair Samosa Filling
The Donair Filling is made up from 2 loaves or 2 lb of cooked Donair meat. Prepare and cook 2 lb. Donair Meat as you normally would. After it has cooled, slice into thin strips and pan fry briefly. Then coarsely chop to throw into a bowl to make up the Donair Samosa Filling. Ensure the Pieces are small enough that they can fit inside the wrappers.
Donair Samosa Filling
Optionally add in 1 diced Tomato & Onion.
Basic Donair Meat
The Standard basic seasoning is 1 tsp each of the below ingredients per lb. of Ground Beef. With the exception of Cayenne Pepper. Which is 1/8 tsp and upwards. Some only use 1/2 tsp Garlic & Onion per 1 lb. of Beef. You can start with 1/2 tsp Black Pepper, Onion & Garlic, and 1/8 tsp Cayenne Pepper and then up it based on your preference. Some use Italian Seasoning or Za'atar in place of Oregano or alongside Oregano. A lot of MSG is always added in restaurant versions.
Salt
Oregano
Garlic
Onion
Paprika
Black Pepper
Cayenne Pepper
Donair Meat always has some kind of Binder in it. In commercial grade Donair Meat this is usually Soy Protein, Soy Protein concentrate or Isolate and/or Wheat Crumbs. Sodium Phosphate is also used for binding and to create a Juicier end product. For at home use, add in 1 Tbl of Flour for Binding.
Donair Sauce
Halifax Donair Sauce is combined with the meat and cooked alongside, as well as a small dipping bowl of Donair Sauce. This needs to be made up in advance and refrigerated.
Donair Sauce
1 Can Evaporated Milk
3/4 C White Sugar
1 tsp of Onion & Garlic Powder
2 Tbl White Vinegar
Combine everything except the White Vinegar. Whisk very well until the milk takes on a whiter color. Pour in the Vinegar while whisking about 12 turns. Cover and refrigerate.
Samosa Dough
You also need Samosa Wrappers. This is portioned into 60g Dough Balls. Then rolled out flat into a circle, and the circle is cut in half to create a semicircle. Stuffed and Deep Fried until Golden Crisp.
Samosa Wrappers
Check out the Samosa Wrapper recipe, which shows how to fold these too.
Vegetables
Only Diced Onions & Tomatoes if you choose. Included in the filling or served on the side.
Onion & Tomatoes
Dice Onions & Tomatoes. Wash well and strain.
Cheese
Use a High Moisture Mozzarella Cheese blend that is made up of 3 parts Mozzarella Cheese & 1 Part Shredded Provolone Cheese. It works extremely well with Donairs.
Saputo Mozzarella Cheese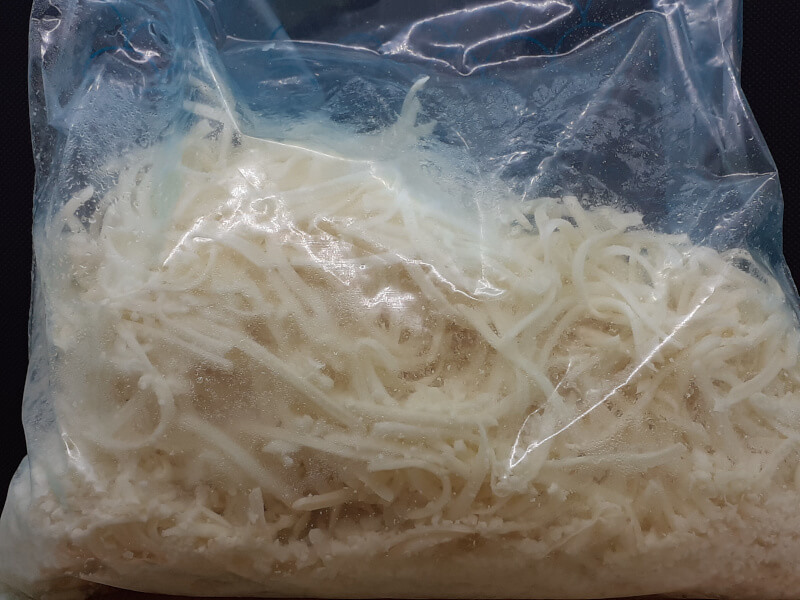 Mozzarella Cheese Blend
Combine 3 Cups of shredded Mozzarella Cheese & 1 cup of shredded Provolone Cheese into a Freezer Bag and mix well.
JAH Donair Samosa
Samosa filled with Donair Meat, Cheese and Donair Sauce optionally with Onions & Tomatoes.
Equipment
1 Deep Fryer

1 Mixing Bowl
Instructions
Chop the Donair Meat into smaller pieces so that they can fit inside the Samosa. Mix the Donair Meat with Donair Sauce, Diced Onions and Tomatoes if using and Shredded Cheese Blend until all the meat is coated well.

Stuff the Samosas with the Meat Mixture and Seal and repeat until all the filling is used up.

Deep fry in batches (about 6) at a time at 350 F – 375 F until Golden and Crisp, About 5 minutes.

Let cool, and enjoy! Optionally with some Fresh Donair Sauce on the side for dipping.
Jerk Chicken

Juicy, Fall off the Bone, Charred Crispy Jerk Chicken with that addictive taste and just the right Hit of Heat, that you can control. Make it as Mild, Medium, Spicy or Hot as desired. The Jerk Marinade is made up in a Jar in about …

Read more

Cabbage Roll Soup

What a wonderful Savory Cabbage Roll Soup made from Salted Tender Cabbage and Rice with Parsley, Tarragon & Caraway to add that Cabbage Roll taste. This soup is based on the Vegetable Soup and can include a variety of meats, such as ground Beef, Pork, …

Read more

Swiss Steak

Fork Tender Swiss Steak with a Flavorful Beefy Tomato Sauce. Done Stove top, in a Slow Cooker or Oven Braised for a Delicious Comforting Meal. Add in your choice of herbs to shape the Flavors and serve with Mashed, Roasted or Steamed Potatoes, Crispy Fries, …

Read more
---