Garlic Bread
Toasted Garlic Bread is a must with your classic Pasta dishes. An Italian or French loaf brushed with a Homemade Garlic Butter that really packs a Buttery Garlic infused flavor.
It's got all the aesthetics with its bright and vibrant colors. Red tones from the Aleppo Pepper, Shades of Greens from Parsley, Chives, Dill weed and a yellow color from the Butter and Butter popcorn seasoning with bits of Onion & Garlic.
Restaurant Garlic Spread
Most restaurants here on the East Coast of Canada use the same Garlic Spread. Purchased from Saputo's or a local Cash & Carry. It comes in a Green & White Bucket.
Parkay Garlic Spread Ingredients
Partially Hydrogenated soya Oil, Modified Milk Ingredients, Salt, Dehydrated Garlic powder, Dehydrated Parsley, Vegetable Monoglycerides and Diglycerides, Soya Lecithin, Sodium Benzoate, Garlic oil, Natural & Artificial Flavour, Beta Carotene, BHA-BHT.
Bread
The Italian or French Loaf is the go-to Bread. Many restaurants serve the thick sliced bread kinds (Texas Toast). Other kinds can include Artisan or Baguette loaves.
French Bread Loaf
Sliced Bread
Garlic Butter
Garlic Butter
The best Garlic Butter for Garlic Bread is a mix of Aioli & Butter with Butter Popcorn Seasoning.
How to Prepare Garlic Bread
Prepare the Garlic Butter and give it some time to rehydrate the Onion & Garlic Flakes.
Slice an Italian or French loaf or other kinds in half and slather on the Garlic Butter. This can go straight to cooking or placed back in the bag to cook later.
After the Bread has been toasted to your liking, slice the bread into serving size and present at the table.
How to cook Garlic Bread
Oven Garlic Bread
Preheat the oven to 450 F. Place the loaf on a baking tray and bake for 5 minutes. Optionally place the oven on broil the last minute for browning the top.
Optionally wrap in tin foil to bake for 5 minutes, then unwrap to bake or broil further and crisp up the bread to your liking. Wrapping in tinfoil will hold the moisture in and creates a softer texture initially that then gets toasted up. This method offers more chew to the bread.
Air Fryer Garlic Bread
Slice the Bread loaf in half in order to fit it into the Air Fryer and Cook for 5 minutes or until crisp to your liking at 400 F.
How to Freeze Garlic Bread
Make a bunch of Garlic Loaves and freeze. Slather some Garlic Butter on and wrap in tinfoil, then in a plastic bag to freeze. Whenever you need some, pop it in the oven at 450 F still wrapped in tinfoil. Bake frozen loaves for about 10 minutes or until softened before unwrapping and toasting to your liking.
Garlic Bread with Cheese
Add Cheese! Sprinkle some cheese on and bake. For a more chewy just melted cheese topping, sprinkle the cheese on during the last stage of cooking and then place the oven on broil to melt the cheese just until brown spots form.
Use a High Moisture Mozzarella Cheese with Provolone at a ratio of 3:1. The Provolone adds additional flavor and really exaggerates the cheesy stretch. A bit of Cheddar Cheese or Parmesan & Romano Cheese.
Saputo Mozzarella Cheese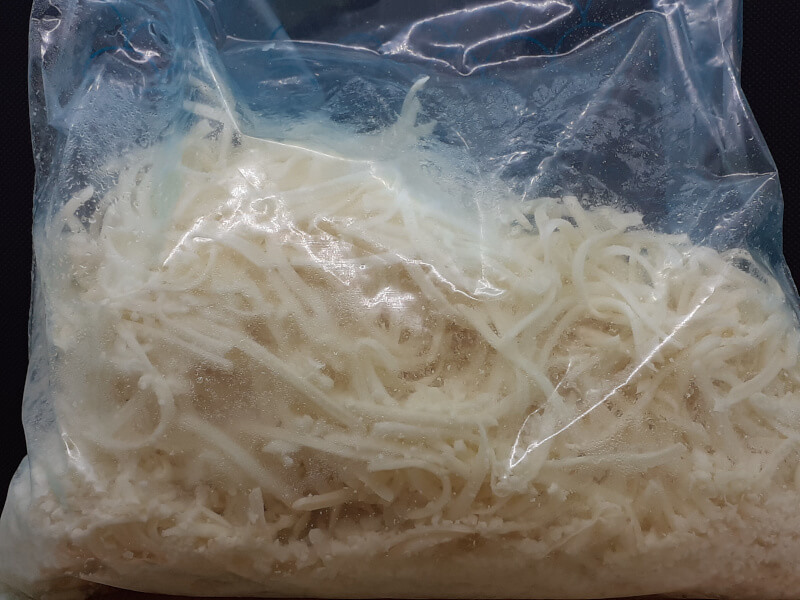 Mozza & Provolone Cheese Blend
3:1 shredded Mozzarella Cheese to shredded Provolone Cheese. Place into a freezer bag and tossed.
Parmigiano Reggiano
Add some shredded Parmesan or Parmigiano Reggiano.
Cheesy Garlic Bread Loaf
Cheesy Garlic Bread Slice
Garlic Bread
Italian or French Bread slathered with Phenomenal Garlic Spread and Toasted in the oven.
Ingredients
1

Loaf

Italian or French Bread

As

Needed

Garlic Butter

As

Desired

Mozzarella & Provolone Cheese Blend

-

Optional – 3:1 Mozzarella to Provolone
Instructions
Prepare the Garlic Butter. Set it aside until the oven is preheated to 450 F with the rack in middle position.

Place the Italian or French Bread on a baking tray and slice in half lengthwise. Slather the Garlic Butter on really good. Optionally add cheese on top.

Place into the oven open-faced for about 5 minutes, or until crisp to your liking. Optionally broil the top for more color during the last minute.

Remove and slice into serving size.
Notes
For a Softer & Chewy Bread, wrap in tinfoil and bake 5 minutes for Fresh and 10 minutes or until softened for Frozen. Unwrap and flip so that they are facing up, and continue to Bake or Broil until crisp to your liking.
Bread Slices can also be brushed with Garlic Butter and toasted in the oven.
Jerk Chicken

Juicy, Fall off the Bone, Charred Crispy Jerk Chicken with that addictive taste and just the right Hit of Heat, that you can control. Make it as Mild, Medium, Spicy or Hot as desired. The Jerk Marinade is made up in a Jar in about …

Read more

Cabbage Roll Soup

What a wonderful Savory Cabbage Roll Soup made from Salted Tender Cabbage and Rice with Parsley, Tarragon & Caraway to add that Cabbage Roll taste. This soup is based on the Vegetable Soup and can include a variety of meats, such as ground Beef, Pork, …

Read more

Swiss Steak

Fork Tender Swiss Steak with a Flavorful Beefy Tomato Sauce. Done Stove top, in a Slow Cooker or Oven Braised for a Delicious Comforting Meal. Add in your choice of herbs to shape the Flavors and serve with Mashed, Roasted or Steamed Potatoes, Crispy Fries, …

Read more
---