Pizza Oven Sub
Sometimes the craving just hits for a spectacular Pizza Oven Sub! Brushing the Buns with Garlic Butter or Garlic Sauce before saucing with Pizza Sauce is one of the key items to elevate this from any standard Pizza Oven Sub. The other key item is to use Top Quality ingredients. Don't buy that 3 in one Pizza Pack. Buy Top Quality Ingredients. With that Mozzarella Cheese Blend, you're all set for a Wickedly good Pizza Ovensub. All topped off with your favorite toppings.
Pizza Oven Sub Ingredients
Ovensub Buns
Garlic Butter or Garlic Sauce
Pizza Sauce
Toppings
Mozzarella & Provolone Cheese Blend
Oven Sub Bread
With the bread, we have a few choices. We can pick up a long Artisan or Ciabatta bread loaf, or we can use a Garlic Bread Loaf. In either case, we want to deliver the Oven Sub, Open-Faced. Two of my favorite buns to use are the Panini Bread & Italian Bread coated in Cornmeal.
Italian Bread Buns
Panini Bread Buns
Garlic Butter
Use either the Garlic Butter or Garlic Sauce to brush the Ovensubs before saucing with the Pizza Sauce.
Garlic Butter
Garlic Sauce
Pizza Sauce
Use Passata Pizza Sauce. Optionally, with a dash of Ketchup to the Pizza Sauce to slightly change it for Oven Subs. This will give it a higher note. We do the same thing for Cheeseburger Oven Subs, which uses the Quick Tomato Sauce.
Passata Pizza Sauce
Pizza Oven Sub Toppings
Be sure to pick up High Quality Ingredients for the Pizza Oven Subs. Go with your choice of Toppings.
Pepperoni
The Pepperoni I highly recommend is below. This is a high quality, cured pepperoni excellent for Pizza, Pizza Subs, Pasta, and Pasta Sauce.
Pepperoni
Ground Beef
Heat a pan up on medium heat and throw some ground beef in with a splash of Worcestershire or soy sauce and cover with a lid.
You can also portion out ground beef into 1/2 tsp and roll into tiny meatballs, the same as you would get at a Pizzeria. Then bake in the oven, air fryer or in a pan over medium heat until cooked through. This will give you perfectly cooked, Nugget of ground beef which you can use for Pizza, Oven Subs, Cheeseburger Soup, Cheeseburger Poutine, and other recipes.
Ground Beef
Italian Sausage
Use a Homemade Italian Sausage meat mix or store bought Italian Sausage with the casing removed. These can also be portioned into 1/2 tsp tiny little nuggets, the same as Pizzerias.
Italian Sausage Nuggets
Mozza Cheese blend
Use a blend of a High Moisture Mozzarella Cheese mixed with Provolone Cheese at a 3:1 Ratio. This is a must and really elevates the Ovensubs more.
Mozzarella Cheese
Provolone Cheese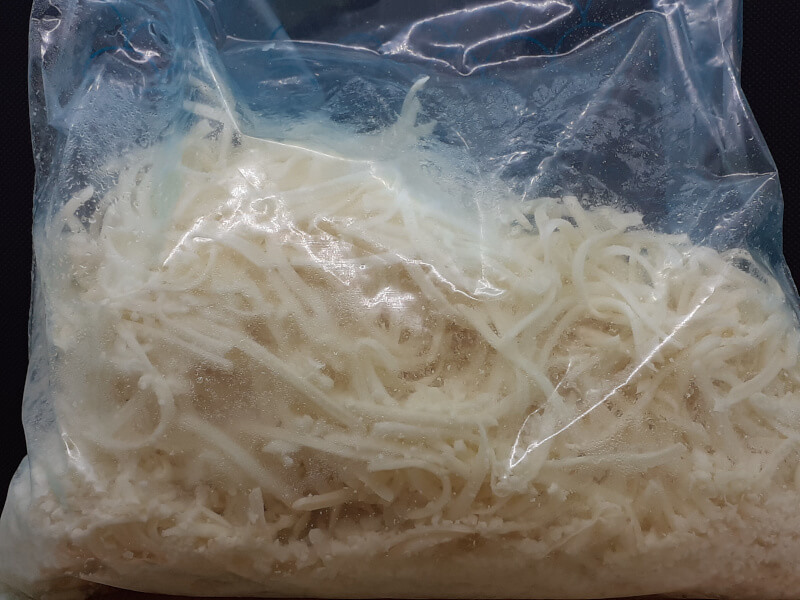 Mozza & Provolone Cheese Blend
Pizza Oven Sub Garnish
You can additionally top this off with Parmesan, Romano and/or Cheddar Cheese. Along with Chili Flakes, Aleppo Pepper, Parsley, Chili Oil, Olive Oil, Sriracha.
How to make a Pizza Oven Sub
It all starts off with good quality ingredients. Right from the bread down to the toppings and choice of Cheese. Preheat the oven to 450 F or use an Air Fryer to toast the Buns at 400 F for about 3–5 minutes.
Garlic Butter
Slice the Buns in half and spread garlic butter.
Pizza Sauce
Sauce with Pizza Sauce.
Toppings
Top with your choice of toppings starting wit the flat toppings first.
Cheese
Top with wonderful Mozzarella & Provolone Cheese blend.
Pepperoni
For this one I wanted the Pepperoni on top to crisp up. Typically this would be placed down first.
Bake
Pop them into the oven for about 5 minutes or into an Air Fryer at 400 F for about 3-5 minutes.
Pizza Oven Sub
Pizza Oven sub brushed with Garlic Butter before saucing with Pizza Sauce. Topped with your favorite toppings and that Mozzarella Provolone Cheese blend.
Equipment
1 Baking Sheet

Pizza screen or pan
Instructions
Preheat the oven to 450 F.

Slice the Buns in half for an open-faced Pizza Ovensub and place them on a baking sheet, pizza pan or screen.

Spread Garlic Butter on the buns followed by the Pizza Sauce. Top with your choice of Pizza toppings, starting with flat Ingredients first.

Top with Mozzarella Cheese blend and place in the oven for 5 minutes. Optionally Broil the top if needed. These can also be air fried at 400 F for about 3 – 5 minutes.

Optionally garnish the Pizza Ovensubs before serving.
Aioli Pork Chops

Aioli Pork Chops are just Phenomenal! These Pork Chops are marinated in an Aioli Marinade using the Jar version of it. Where everything is placed into a Jar and puréed with an Immersion Blender. Slow cooked until fork tender. Just as they come out of…

Taco Burritos

Try Taco Burritos for your next Taco Tuesday Meal. Stuffed with Refried Beans, Mexican Rice, Red Taco Sauce, Beef, Sour Cream and Cheese. Rolled up and toasted in a pan or grilled crispy. You can add in or omit any Burrito fillings to customize your…

Chicken Broccoli Casserole

This is an incredibly comforting Cheesy Chicken Broccoli Casserole. Made with diced Chicken Breast, Broccoli florets and Rice, enveloped by a Flavorful Creamy Sauce, and topped with melted Cheddar or Velveeta Cheese, making every mouthful an absolute delight. Chicken Broccoli Casserole Ingredients Made with Chicken…
---