Pita Pizza
Pita Pizza is a quick snack you can make with Pita Bread. All Sauced up with that special blend of Mozzarella Cheese and your Favorite Toppings.
This is a post I decided would serve as a cornerstone post for a wide variety of Pita Pizzas. Here I will list all the Pita Pizzas I have made. So be sure to check back as all future Pita Pizzas will be posted here.
They are all pretty much made the same way with different Sauces, Cheese, and Ingredients.
Pita Bread
For this recipe, we use already cooked Pita Bread or store bought Pita Bread.
Usually, I make up a big batch of Pita Bread and use it for whatever meal I'm having, and then freeze the rest for things like Pita Pizza. If using frozen Pita Bread, just remove it from the freezer and thaw.
Store bought Pita Bread
These are pretty cheap to pick up at a Middle Eastern store. I get mine for $1.00 CAD for about 5 Fresh same day made Pitas. I store these in the freezer right away.
Steamed Pita
Another cool trick is to Steam the Pita Bread, either fresh or straight from frozen. This also has the added benefit of adding moisture to the Pita that when cooked in the oven doesn't crisp so fast. It also gives a chewier texture.
Garlic Butter Brush On
Optionally, brush on Garlic Butter before saucing with the Pizza Sauce to add extra flavor and a Garlic kick. You can also serve Garlic Sauce as a dipping sauce or the brush on for the Pita Pizzas.
1/4 C Unsalted Butter
1/4 C Sunflower Oil
1 1/4 tsp Garlic Powder
1/2 tsp Butter Popcorn Seasoning
Pinch Citric Acid -About 1/4 of 1/8 tsp, very small amount
1/2 C Butter
1 tsp Parsley, Chives, Dehydrated Onion & Garlic Flakes
1/2 tsp Butter Popcorn Seasoning
1/4 tsp Dillweed & Aleppo Chili Flakes
Aioli
6 Cloves Garlic
1/8 tsp Sea Salt
1/2 C Sunflower or Neutral Oil
Pita Pizza Sauce
Depending on the type of Pita Pizza being made, a whole array of other sauces can be used. For the standard Pizza Sauce, use Passata Pizza Sauce or other Pizza Sauces.
1×680 ml Mutti Passata
4 Large Basil Leaves – Finely chopped or torn
3 Tbl EVOO
1 tsp Sea Salt
3 Sprigs Oregano – about 1/4 – 1/2 tsp dried
1 Clove Garlic – Finely grated
1/4 tsp Black Pepper – or more to taste
Mozzarella Cheese Blend
There are many types of Cheeses that can be used depending on the style of Pita Pizza being made. The standard Pizza Cheese is made from shredded high moisture Mozzarella cheese & Provolone cheese at a 3:1 ratio. This is my go-to cheese blend and is just phenomenal.
Just shred the Mozzarella Cheese and the Provolone cheese. Then combine into a Ziploc bag 3 Cups of Mozza & 1 Cup of Provolone. Mix it well and freeze.
Saputo Mozzarella Cheese
Provolone Cheese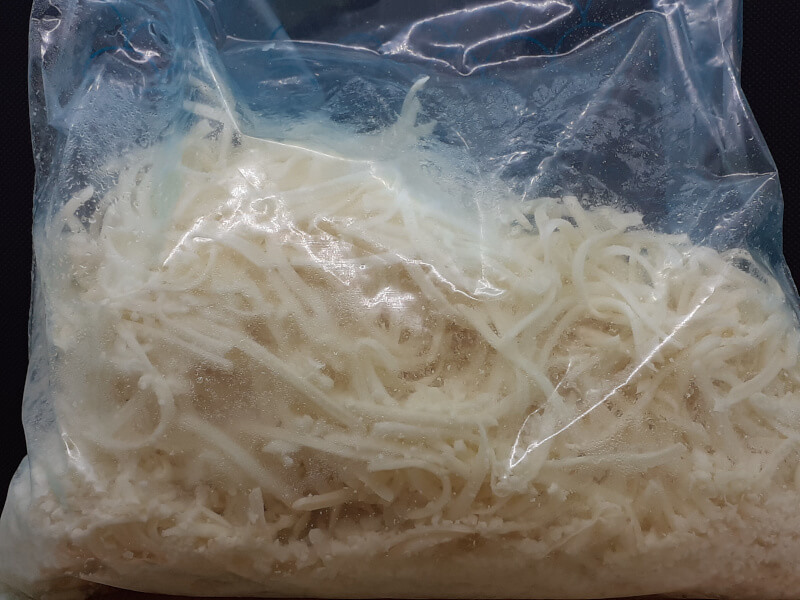 Mozza & Provolone Cheese Blend
3 Cups of shredded Mozzarella Cheese and 1 Cup of Shredded Provolone Cheese.
How to cook Pita Pizza
Cook Pita Pizzas flat on a baking sheet and place into a preheated oven at 450 F with the rack in middle position. Cook for 5 minutes.
Steaming it prior to assembling will minimize cooking the crust too much and gives a chewier texture. I myself vary from sometimes putting the Pita Bread in as is because I want the Crunch or Wetting the Pita Bread to minimize it, to Steaming it for a Chewy sensation. It all depends on the mood, for me at least.
If you like it really Crispy, then cooking at the highest setting will Crisp it up in the same time frame.
Pita Pizza Ideas
Just as there are varieties of Pizza, so it is with Pita Pizzas. Make sure you stop back once in a while, as all Pita Pizzas I make will be posted here. To make yours, just check back in this section for some Pita Pizza ideas.
Made with Pizza Sauce, Italian Sausage, Onions & Red Peppers, with Mozzarella Cheese Blend.
Chicken Caesar made with Caesar Dressing, Chicken, Red Onions, Bacon, Mozzarella Cheese Blend with some Cheddar Cheese.
Turkey Ham Ranch made with Ranch Dressing, Deli Style Turkey and Ham Slices – Sliced into Shreds, Onions, Tomatoes and Green Bell Peppers.
Perhaps one of my most favorite Pizza. I use this combination a lot for Pizza. Sauced with Passata Pizza Sauce and topped with Pepperoni, Bacon & Italian Sausage with that Mozza Provolone Cheese Blend.
Pizza Sauce
Pepperoni
Ground Beef
Red & Green Bell Peppers
Onions
Mozza Cheese Blend
Parmigiano Reggiano
Green Onions
Olive Oil drizzled over top
Garnished with Parsley
Garlic Butter
Basil Tomato Sauce
Pepperoni
Ground Beef
Green Onions
Mozza Cheese Blend
Marble Cheese
Babybel Cheese
Olive Oil drizzled over top
Garnished with Parsley
Pita Pizza Garnish
Garnish the Pizza with Parsley, Parmesan Cheese, Parmigiano Reggiano, Chili Flakes, or Aleppo Chili Flakes. Mix these ingredients together for your very own Pizza Shake. I have a few that I am experimenting with. It's a fantastic way to elevate the Pizza even more.
Everything Bagel Pizza Garnish
The Everything Bagel Seasoning is really nice as a garnish for Pizza, too. Just sprinkle on top before serving.
Pita Pizza
Pizza on a Pita Bread. Choose your Sauce & Toppings. Wet the Pita Bread for a less crispy pizza and steam it before assembly for a Chewy Pita Pizza. Cook at 450 F for 5 minutes, or max heat for a really crispy Pita Pizza. It all depends on what you're after.
Ingredients
2

Pita Breads

As

needed

Garlic Butter or Garlic Sauce -

Optional

As

needed

Passata Pizza Sauce -

or other Sauces

Your Favorite Toppings

As

Desired

Mozzarella Cheese Blend

-

3:1 Mozzarella to Provolone

As

Desired

Cheddar Cheese

-

optional
Instructions
Preheat the oven to 450 F. Rack in middle position.

Place Pita Breads on a baking sheet and optionally brush with Garlic Butter or Sauce.

Sauce the Pita Bread and build with your Favorite Toppings & Cheese.

Place them into the oven to cook for 5 minutes. Optionally Broil the top for colorization if needed during the last 1 minute.

Remove from the oven, sprinkle Pizza Shake on top or Garnish with Parsley, Parmesan Cheese, Chili Flakes.
Notes
The oven preheated to 450 F is a good medium heat for better control and cooking the Pita Pizzas for 5 minutes. From here you can remove them a bit early or leave for a few seconds to crisp. Optionally broil the top for a few seconds to a minute. 
If a softer Pita Pizza is desired, cook at 400 F. Optionally steam the Pita bread before assembling for a Soft and Chewy Pita Pizza. 
If a crispy Pita Pizza is desired, cook at the highest setting your stove will go. Keep an eye on it, they crisp up fast.
Burrito Bowl

This Taco Burrito Bowl is made with all the same ingredients used to make a Taco Burrito. All layered in a Plate, Bowl or Tortilla Bowl. Place everything out on the table, so everyone can build their own with some Soda and enjoy a Family …

Read more

Aioli Pork Chops

Aioli Pork Chops are just Phenomenal! These Pork Chops are marinated in an Aioli Marinade using the Jar version of it. Where everything is placed into a Jar and puréed with an Immersion Blender. Slow cooked until fork tender. Just as they come out of …

Read more

Taco Burritos

Try Taco Burritos for your next Taco Tuesday Meal. Stuffed with Refried Beans, Mexican Rice, Red Taco Sauce, Beef, Sour Cream and Cheese. Rolled up and toasted in a pan or grilled crispy. You can add in or omit any Burrito fillings to customize your …

Read more
---