Newfie Poutine
Someone asked have you ever tried Newfie Poutine to which I replied no what is it? He proceeded to tell me that it was just like a regular Poutine but with Chicken and Stuffing and some add Green Peas. This sparked my curiosity thinking this is like a Thanksgiving leftover platter, how interesting. So sometime later, my mind thinking about it, I made it and WOW! This is so good. So much comfort when eating this.

This is absolutely one of the best ways to use leftovers after a Turkey Dinner provided there is still some Stuffing left. If not make some more. You can swap this out with chicken any day of the week. The added benefit is, if you have this after a Turkey Dinner, everything is already made for you. So it's an excellent way to bring together your Leftovers to create another dish.
Newfie Poutine Ingredients
Use only a little of each ingredient. This Newfie Poutine Builds up fast. I use a Cheese blend of shredded Mozzarella & Provolone Cheese at a 3:1 ratio. It's so much better than just regular Mozzarella Cheese and the Provolone just gives it that little extra.
The ingredients are
In this one, we add the addition of Green Peas. You could add cooked Waxed Beans, Carrots, Corn, Bacon, Onions, or any other leftovers that might go well with this dish.
French Fries
Use Storebought and Air fried or homemade french fries and deep fried.
Stuffing
Use either Homemade Stuffing or Stovetop to top the Fries.
Newfie Poutine Chicken or Turkey
Leftover Chicken or Turkey is used to top the poutine. That's what makes this dish so great after the holidays. It uses up the leftovers. Although it doesn't have to be. This dish can be enjoyed any time of the year by Baking the chicken pieces to be stripped off the bone and used.
Gravy
For the Gravy, we like to use JAH Frickin Good Chicken Breading to make the gravy which is used for the JFC Poutine.
But sometimes use St Huberts Style Poutine Gravy. This is sort of like a Chicken Gravy mixed with Tomato Soup & BBQ Sauce type Gravy or Sauce. Standard Chicken or Turkey Gravy can be used as well.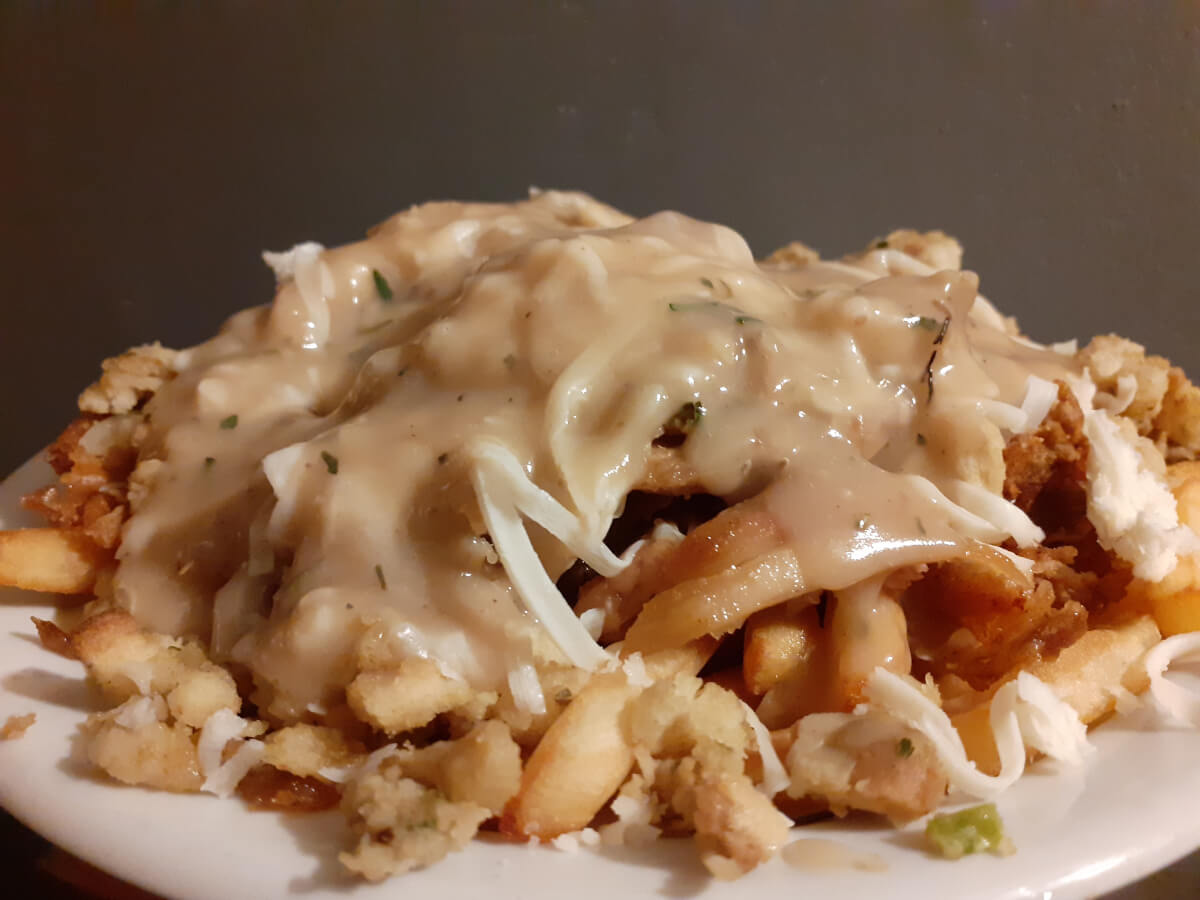 Cheese Blend
The shredded cheese blend of High Moisture Mozzarella & Provolone Cheese at a ratio of 3:1 is fantastic on poutines.
Print Recipe
Newfie Poutine
Poutine Platter with Stuffing and Turkey
Ingredients
French Fries

Prepared Stove Top Stuffing

Prepared Gravy

Left over Turkey or Chicken Meat

Mozzarella Cheese Mix

optional

Green Peas, Waxed Beans etc..
Instructions
Deep Fry French Fries and heat up the Gravy and Meat.

Place fries on plate – keep it a small portion. This builds fast.

Add some warmed Turkey or Chicken Meat. Sprinkle over some warmed Stove Top/Stuffing

Add Mozzarella Cheese Blend

Pour Gravy over top – And optionally add some cooked Peas, Waxed Beans etc.
---